Mongolia's Naadam Festival
Mongolia's Naadam Festival
The ancient Greeks may have the Olympics but the Mongols have Naadam. Mongolia's annual circus-like Naadam Festival is a centuries-old tradition that dates back to the era of the great Khans and their dynasties. Wrestling, archery and horse racing - the three skills that Genghis Khan considered essential for any Mongol warrior - are showcased at the country's largest celebration of the "three manly sports". Come behind the scenes as we meet the competitors in the lead up to the festival and discover some of Mongolia's wild outback, visiting ruined monasteries, flaming cliffs and historic cities.
Activities
Archery Training Camp
Wrestling Training Camp
Horse Racing Training Camp
Baga Gazriin Chuluu - Hike
Tsagaan Suvarga - Hike
Bayanzag Flaming Cliffs - Sunset walk
Vulture Canyon - Hike
Khongoriin Sand Dunes - Sunset walk & camel ride
Ongiin Khiid - Ruins
Karakorum - Erdenezuu Monastery & Museum
Naadam Festival - Opening Ceremony
Naadam Festival - Archery events
Naadam Festival - Wrestling events
Naadam Festival - Horse Racing events
Highlights
Go behind the scenes of Mongolia's Naadam Festival and visit the athlete's training camps as they prepare to compete in the Naadam Festival.
Live the nomad life with a family stay at a horse breeder's camp.
Experience the phenomenal landscapes of central Mongolia.
Attend the Naadam Opening Ceremony and watch athletes compete for glory in wrestling, horse racing and archery.
Encounter Mongolia's stunning natural landscape with visits to places such as the Flaming Cliffs and sand dunes of Khongoriin.
Adventure and Active
Festivals and Events
For over 30 years we've been taking travelers around the globe. That's over 30 years of adventures, of visiting new places and old friends, of countless unforgettable moments. More than 30 years of changing the way people see the world, on small group tours with like-minded Intrepid people.
As a responsible business, we've always been committed to being there for our travelers and the communities we visit. So, you can trust that when you travel with us, we won't just be there for you
...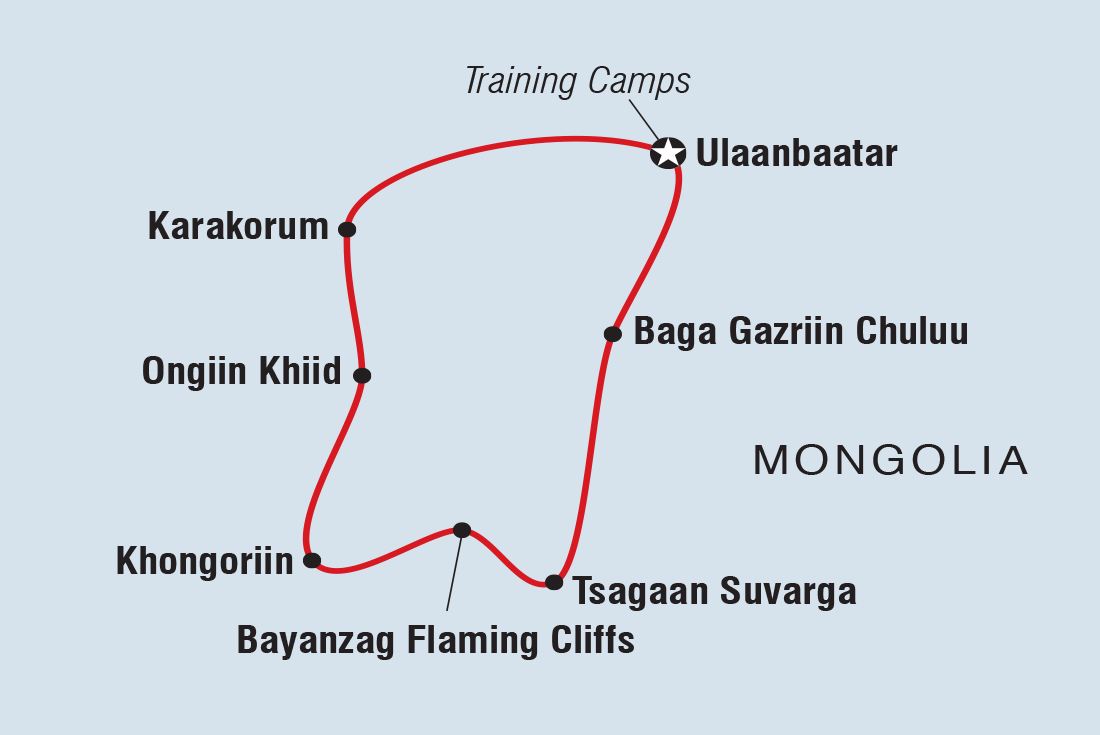 Day
Destination
1
Ulaanbaatar
2
Archery Training Camp
3
Wrestling Training Camp
4
Horse Racing Training Camp
5
Baga Gazriin Chuluu
6
Tsagaan Suvarga
7
Vulture Canyon/Bayanzag Flaming Cliffs
8
Khongoriin Sand Dunes
9
Khongoriin Sand Dunes
10
Ongiin Khiid
11
Karakorum
12
Ulaanbaatar
13
Naadam Festival - Opening Ceremony & Archery Events
14
Naadam Festival - Wrestling & Horse Racing Events
15
Ulaanbaatar